If you're looking for an exterior home addition that adds both style and durability, there's no better choice than vinyl siding from Midwest Construction. Since 1958, we've been the vinyl siding company of choice for customers throughout Central Iowa, Northern Iowa, and Minnesota—improving their homes' weather resistance and curb appeal with our extensive selection of high-quality siding. When you need reliable service and vinyl siding built to withstand the Midwest climate, look no further than Midwest Construction!
Lasting Benefits of a Vinyl Siding Installation
Although there are dozens of siding materials on the market today, none are as durable or functional as an installation of vinyl siding. At Midwest Construction, we've partnered with industry leader Norandex® to bring their superior exterior cladding American Classic insulated vinyl siding to homeowners across Iowa and Minnesota. Compared to traditional materials like wood, brick, or stucco, vinyl siding offers a number of long-term benefits:
Simpler and more affordable installations
Little to no ongoing maintenance and repair
Fade-, rot- and warp-resistance, even in extreme weather
A variety of styles, thicknesses, colors, and textures to suit any home aesthetic
Better thermal performance, keeping your home cooler in the summer and warmer in the winter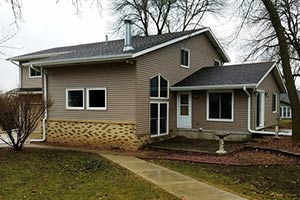 Why Choose Midwest Construction for Your Vinyl Siding?
At Midwest Construction, we don't just provide exceptional siding products; we also employ the region's most skilled installers to guarantee a long-lasting vinyl siding installation. Whether you live in Des Moines, Mason City, or somewhere in between, you can expect the same exclusive benefits from our highly trained team:
Certified Expertise: Our Production Managers are certified by the Vinyl Siding Institute (VSI), a rigorous certification based on experience, practical training, and classroom examinations.
Award-Winning Service: Family-owned and operated since 1958, our consistent customer service proudly earned us the BBB Integrity Award in 2015.
Protective Warranties: Every installation of vinyl siding comes with extended warranties that protect your home investment for years to come.
Get a Free Estimate for the Cost of Vinyl Siding in Iowa or Minnesota
If you're wondering about the benefits and cost of vinyl siding, don't hesitate—give Midwest Construction a call today to discuss your home renovation project. To get started with a free consultation and cost estimate, stop by one of our showrooms in Des Moines or Mason City, or submit our online quote form now!