When you want the high-end look of cedar siding without the maintenance and expense of a wood product, there's no better choice than Everlast Cedar Grain Plank siding. This revolutionary product has been around since 2009, and it's crafted with a triple-composite formula to make it the most advanced composite vinyl siding and trim on the market today.
At Midwest Construction, we're proud to supply homeowners throughout the region with this exceptional siding choice, and our expert installation crew can help you choose the ideal custom finish, trim, and style to match the unique aesthetic of your family's home.
Explore our gallery of homes to see how Everlast enhances the value and curb appeal of any single- and multi-family home across the nation:
The Quality Difference of Our Advanced Composite Siding
Everlast Cedar Grain Plank siding is manufactured by Chelsea Building Products—a leading name in the industry since 1975. The innovation, material science, and custom manufacturing of this vinyl siding is all done in-house to give you a true made-in-the-U.S.A. product from a company you can trust for superior craftsmanship and service.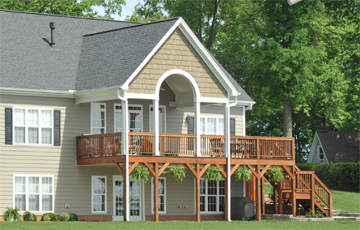 Using in-home compounding of U.S.-sourced materials, Chelsea combines the best in inorganic minerals, polymer resins, and acrylic colorants to produce the high-quality, durable cellular PVC of this innovative vinyl siding.
Everlast is the ideal choice for all of your exterior remodeling needs and provides countless benefits and exclusive features to enhance the value of your investment:
Extreme Fade Resistance and CedarTouch
A color-matched acrylic cap is chemically-bonded into each Everlast plank—providing extreme fade-resistance and an extra layer of strength and durability. This color-through material is also scratch- and dent-resistant, and every plank is embossed with the imprint of a real plank of cedar to make it the most natural looking, UV-resistant product available.
Water-Damage Resistant—Guaranteed.
You'll never have to deal with water damage and wood-boring insects with Everlast Cedar Grain Plank siding! That's a promise. Unlike other materials, the advanced composite technology of Everlast results in vinyl siding that will never swell, bow, rot, expand, or contract—giving you a beautiful home exterior guaranteed for life.
Zero Required Maintenance
When choosing Everlast for your home, you'll be getting the best in durability and low-maintenance upkeep. There is zero required maintenance for Everlast Cedar Grain Plank siding, although an occasional light wash to remove debris will help maintain its inherent luster. Unlike fiber cement or wood siding, Everlast does not need to be painted or caulked, although it is paintable if you prefer (which voids the Fade Protection warranty).
Easy Installation With Universal Design and a Variety of UV-Stable Colors
The Everlast products from our premier siding installation company offer more than just superior strength and durability—they are also crafted for a visually-appealing exterior that perfectly complements your home's aesthetic!
Formulated by leading U.S. home designers to reflect a timeless appeal, Everlast's color palette features warm, low-gloss hues that are appropriate for all home styles in any region. Custom benefits with that come with installation of Everlast Cedar Grain Plank siding include:
14 different deep, rich colors designed for lasting brilliance
UV-stable acrylic polymer for exceptional fade-resistance in any climate
Acrylic cap molecularly-fused to substrate and embossed with authentic cedar grain to enhance the beauty of your vinyl siding
Universal design that's interchangeable with other trim and accessory products for ultimate flexibility when achieving your home vision
Fast installation with planks available in both 4-1/2" and 6-7/8" styles
Your choice of premium Everlast color-matched trim or cellular PVC trim for a beautiful finish
Superior Siding from Your Trusted Siding Installation Company
At Midwest Construction, "Quality Products—Quality Installation" is more than just our motto, it is our guarantee to each and every one of our customers. For decades, our siding installation company has led the industry by offering the best in home improvement products, and the Everlast Cedar Grain Plank siding from Chelsea Building Products is no exception.
When you want to get the most out of your home and invest in exterior upgrades that last for a lifetime, there's no better choice in the industry than the products and services offered by Midwest Construction! To learn more about how our Everlast vinyl siding surpasses all other products available on today's market, simply give us a call to speak with one of our expert installers. You can also request your free, no-obligation estimate now by submitting our simple online form.